This is a legacy web site and some information may be out-of-date. For more recent information and postings, see
www.tonynovak.com/cpa
.



Tony Novak 800-609-0683

a passionate advocate for small business success
Tony Novak in the News
January 4, 2016 - New Jersey CPA magazine published an article titled "4980D Small Business Excise Tax Liability"
June 9, 2015 - Assemblyman Sam Fiocchi awarded Tony Novak a Joint Legislative Commendation for service to New Jersey marina businesses. More at MoneyIslandNews.com.

October 29, 2014 - Tony Novak is cited in Money Magazine for contributing two tax planning ideas for empty nesters in this article by Karen Cheney.
October 26-28, 2014 - A number of New Jersey publications including Star Ledger, Atlantic City Press, South Jersey Times and NJ.com published Tony Novak's editorial comments about the impact of Sandy two years after the storm. Novak volunteered for this media effort as a spokesperson and advocate of south Jersey businesses and the bayshore region. A compilation of the comments is posted on LinkedIn.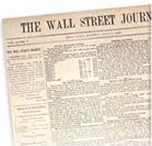 August 7, 2014 - Wall Street Journal article titled "Small Firms Hit by Big Changes in Health Coverage" cites my health insurance advice for small business owners in this article by Angus Loten.
July 1, 2014 - Tony Novak is profiled in the July 2014 edition of New Jersey CPA Magazine in this article by David Plaskow.
June 25, 2014 - Video interview at New Jersey Society of Certified Public Accountants on health care reform
May 20, 2014 - PhDinspecialeducation.com's newly published "Online Handbook for Special Needs Parenting" includes a link and reference to Tony Novak's article "Financial Planning for Families with Special Needs Children"
February 20, 2014 - Press release: Delaware Board of Accountancy issues License to Practice
July 15, 2013 -
June 5, 2012 - CPA license announcement
---
Opinions expressed are the solely those of the author and do not represent the position of any other person, company or entity mentioned in the article. Information is from sources believed to be reliable but cannot be guaranteed. Any accounting, business or tax advice contained in this communication, including attachments and enclosures, is not intended as a thorough, in-depth analysis of specific issues or a substitute for a formal opinion, nor is it sufficient to avoid tax-related penalties. Tony Novak operates as an independent adviser under the trademarks "Freedom Benefits", "OnlineAdviser" and "OnlineNavigator" but is not a representative, agent, broker, producer or navigator for any securities broker dealer firm, federal or state health insurance marketplace or qualified health plan carrier. He has no financial position in any stocks mentioned. Novak does work as an accountant, agent, adviser, writer, consultant, marketer, reviewer, endorser, producer, lead generator or referrer to other companies including the companies listed in the articles on this web site.
onlineadviser@live.com | (800) 609-0683 | Cell/Text: 856-723-0294 | www.wealthmanagement.us.com