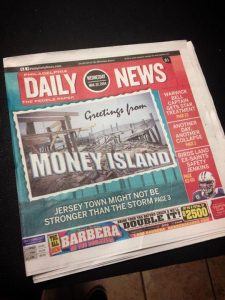 The Philadelphia Eagles won the Superbowl last night and I suspect that is a good thing for our region's economy. I have a small accounting business just west of Philadelphia and a small aquaculture business south of Philadelphia (covered in the Philly Daily News in the photo). This morning I am considering the Superbowl win impact on us in the days and weeks to come:
Immediate – Some schools are opening two hours late this morning. It is not clear that this is due to the game or the possibility of ice on the roads this morning (or perhaps a combination of both). Travel might be restricted in some parts of the city. It looks like Broad Street is still closed. Some people were reluctant to schedule business appointments this morning. (I happen to have one at 10 AM). Travel on the highways in South Philadelphia is always affected by sports events at the stadiums. Sadly, there has already been some property destruction downtown. But other than fireworks lat night and this morning, I haven't noticed or heard of any impact in the western suburbs this morning.
Memorabilia – Obviously this is a boost if you make or sell T shirts or similar memorabilia. This boost creates a multiplier effect among small businesses in the local economy.
Parade – Later this week the victory parade in the city will no doubt put other business plans on hold. The downtown hotels and restaurants will be packed leading up to and immediately after the event.
Stock Market Effect – in 40 out of the last 50 years the stock market went up in a year that the NFC team won the Superbowl. I'm not so sure that will be the case this year, at least for the rest of 2018. IMO, the bulk of the stock market's 2018 gain has already happened.
Phychic Capital – We tend to believe that a Superbowl victory boosts positive feeling in the winner's region resulting in an increase in spending and investment. Yet there is surprisingly little recent evidence that a Superbowl win spurs regional economic growth in the team's hometown. At least one study found no significant economic impact in the period of 1970-2001. I was surprised by the lack of recent  published data on this topic. Most of the published scholarly work is more than a decade old. People here are likely to feel better this week, get out more, make more business deals and are more likely to spend money.  Yet my gut instinct is to  believe that small businesses that are able to tap into this wave of positive energy in the small business community will see substantial economic benefit.
Political Impact – Philadelphia has long been a stronghold of civil rights activism. Without being overly controversial or tearing into details, let's just say that we take exactly the opposite position of the current federal government regime. The Eagles players are known for their strong activist opinions and civil rights activity. They support the payers'  protests that were criticized by the president this past season. My own primary business and personal connections are with the region's lawyers and accountants.  They have always been middle-of-the-road, strongly progressive or liberal in social issues and fiscally conservative when it comes to public funding. Over the past two years the majority of Philadelphians have united against trumpism. The Philadelphia region's expected shift in political power base later this year toward Democratic control this coming year then it is more likely to be caused by court-ordered end to gerrymandering and discontent with current federal policy. More than anything else, I suspect the Superbowl win will simply add psychological political capital to the region's leaders (specifically Mayor Jim Kenney and our ultra left DA Larry Krasner) in the ongoing battle against federal forces of nationalism and trumpism.
Overall Trend – The city has been on a roll lately with a visit from the Pope and the host of the Democratic National Convention in 2016.  Philadelphia has always been a great place to visit. Real estate values are strong, occupancy rates high, restaurants are full and the economy is strong. Our local South Jersey oyster and crab industry supplies Philadelphia region seafood restaurants. They are doing well. I suspect that the Superbowl win will extend this travel and overall long term economic streak.