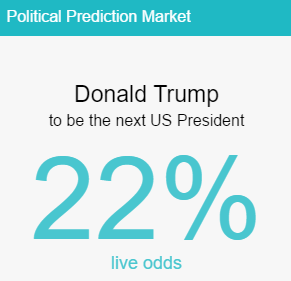 Some perverse personal interest in statistics and forecasting keeps me interested  this presidential race. Nothing annoys a statistician more  than unreliable input data. The latest news had me befuddled.
Yesterday CNN put out an article saying Hillary's acceptance among electorate has increased lately ("enthusiasm for a Clinton candidacy has grown as her chances of winning enough delegates to become the presumptive nominee have increased. In the new poll, 41% say they would be enthusiastic about her candidacy, up from 34% in March") while on the SAME DAY the Wall Street Journal published an article saying that her support has dropped sharply among independents. ("Mrs. Clinton's favorability rating among independents had dropped 15 percentage points in the previous four months").
So which is it, and what does this mean in the likely event of Hillary vs. Trump? That's really what American want to know.
Three things seem clear:
1) This election will be decided by people identified as independents rather than those who support either party (since the Democratic/Republican support is so evenly divided).
2) A contest of Sanders vs. Trump is easy to forecast as a Democratic presidential win but this is a moot point if he has no chance at the Democratic nomination.
3) In a contest of Hillary vs. Trump vs. "any last minute independent" almost anything could happen.
The good news today: "Cruz quits race" A win for America!
The rest remains
#worstelectionever
.