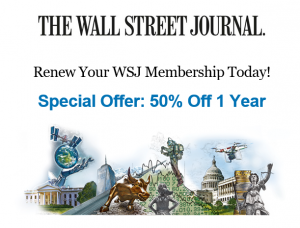 I've been a subscriber to The Wall Street Journal for almost 40 years. I started way back in college, about age 19, after responding to a special offer to students. While I had already cultivated an interest in current events, reading the publications of Time, Esquire, Popular Science and The Wall Street Journal really helped me gain a wider understanding of issues. Somewhere in the next year I was elected as editor of our college newspaper and I made a good living writing over the next two decades. When I established a niche investment advisory and financial planning firm on State Street in downtown Doylestown, Pennsylvania in 1987, I titled our popular monthly newsletter "The State Street Journal" with obvious deference.
Over the years, I often cited the Journal in my 2,000+ business columns for other publishers and have been interviewed and cited several times by writers for The Wall Street Journal. At one time in the early 2000s, I pitched one of the editors on a small business column that was based on a continuing professional education course that I taught at that time.
Remember that for us baby boomers the misinformation and propaganda industry was not so powerful for most of our lives. Society actually valued a person who kept abreast of, curated, and reported on developing issues. The world has changed and that is no longer the case. Newspapers and reporters have suffered. Anyway, last month I told WSJ that I could no longer afford the $39 monthly subscription and I offered them the $17 that I had been paying for a digital-only subscription. They declined. So I've been without the Journal for a few weeks. Now today they countered with this $19.50 advertisement offer for 12 months. Of course, I understand my own consumer thinking patterns quite well by now and I know my own cash flow and I know the way that I will ultimately approach the purchase decision.
But my question is simply: Does this type of marketing strategy makes sense?
(PS Yes, I am writing this today to deliberately take a break away from the ongoing emphasis on small business crisis management).